Items on this page are available for sale to Pride MC members only.
If you are not yet a member; unfortunately, your purchase will not be honored.  If you are an active or retired correctional employee, from any local, state, federal or private facility, please visit our "About" page to learn more about joining our club.
Shipping, and a 3.25% convenience charge (to cover PayPal fees), may be assessed to purchases.
Sgt. Baserman Memorial Patch
On February 15, 2018, Sgt. Mark Baserman was attacked in a cowardly act of violence at the hands of an inmate, while on duty at SCI Somerset.  Eleven days later, on February 26, 2018, Mark succumbed to his injuries.  To celebrate his life, and to honor the ultimate sacrifice he made, friends of Sgt. Baserman have started a scholarship fund in his memory.  In support of that, we are assisting them with the selling of memorial patches (approx size is 3 1/4 x 2 3/4).  100% of the proceeds, less shipping and paypal fees, goes to the Sgt. Baserman Memorial Fund.  We have a limited supply of 100 memorial patches available.
This item is available for purchase from members/non-members alike.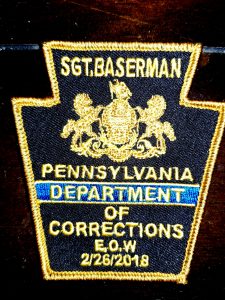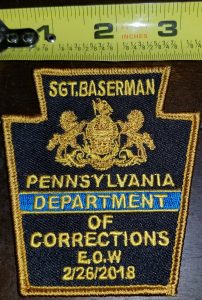 1233total visits,1visits today